Platinum Silver Parti Schnauzers

.
.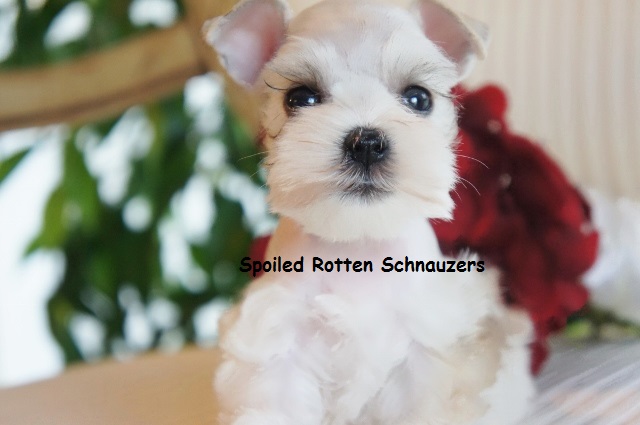 Platinum Silver Parti Schnauzers are very rare
.
Newborn Platinum Silver Parti then the Same Puppy at 8 Weeks old.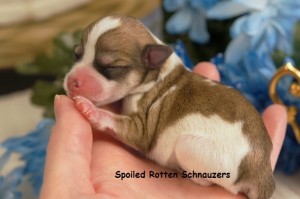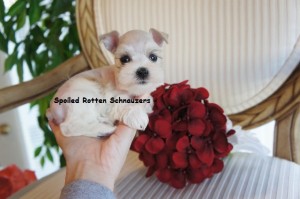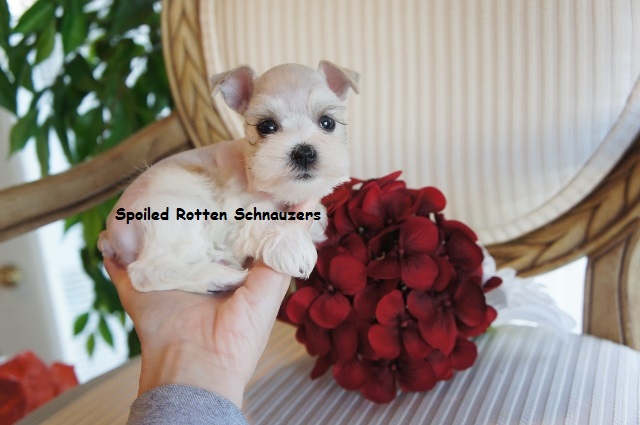 .
Can You Register Platinum Silver Parti Schnauzers with AKC?
Yes, of course. A platinum silver is a purebred schnauzer.
The AKC Registration Color Code for all parti schnauzers is: 023. You DO need to send a pictures when you register them. Contact AKC directly for more info.
What Are Platinum Silver Parti Schnauzers?
To understand the platinum silver parti schnauzer color you need to know the basics of how the salt and pepper schnauzer color works because a platinum silver parti schnauzer is a salt and pepper parti schnauzer. For those that aren't familiar with this, salt and pepper schnauzers are born with banded hair that is the color of a brown paper bag which turns silver. Salt and pepper schnauzers vary in shade (darker/lighter.) Now a "platinum silver schnauzer" is the lightest shade of salt and pepper you can find and instead of turning a strong "silver / gray" color they turn into an extremely light (almost white) color. With a normal parti schnauzer, you see a contrast because all parti schnauzers are white with colored spots. However, on a platinum silver parti schnauzers, their bodies are white like a normal parti but because their spots are the "platinum" color, you see their brownish spots as a newborn but then as they age the platinum silver spots turn into a light silver / almost white color which gives the platinum silver parti a similar look to an all white schnauzer. However, if you look closely, you can always faintly see their spots on their skin. Platinum silver parti schnauzers have black eyes, black nose and black pads.
.
Newborn Platinum Silver Parti Schnauzer
(now remember, parti schnauzers will vary in pattern. Some have more spots while others have very few spots. In a Platinum Silver Parti it really doesn't matter how many spots they have become all of them will end up appearing completely white as an adult. )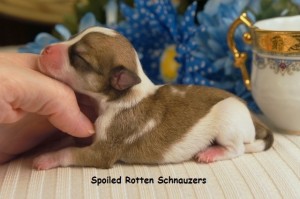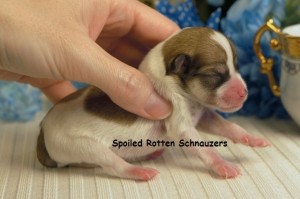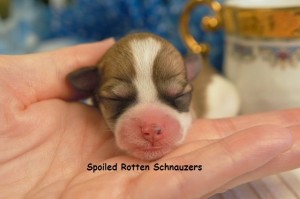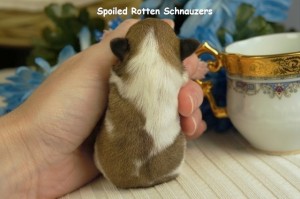 2 week old Platinum Silver Parti Schnauzer (same puppy)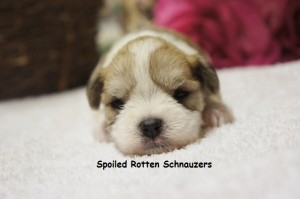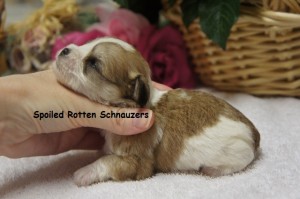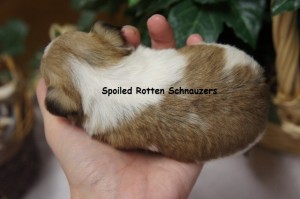 5 week old Platinum Silver Parti Schnauzer (same puppy)

(you can see him getting lighter, however, because we haven't groomed him all you see the brown banded hair he was born with. once we shave him all of that newborn hair will come off and you will be able to see the new hair (which is a shimmery white)coming in and replacing everything.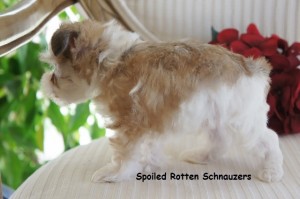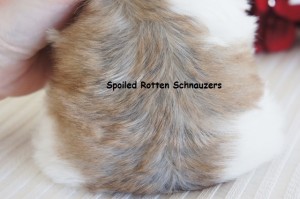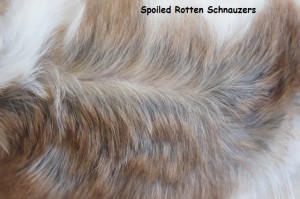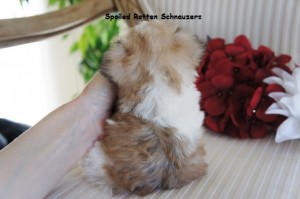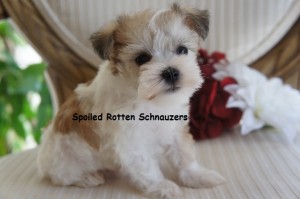 Same Puppy Just Shaved at 8 weeks …..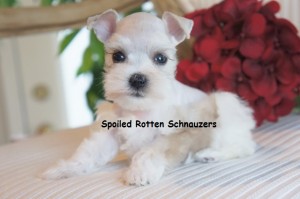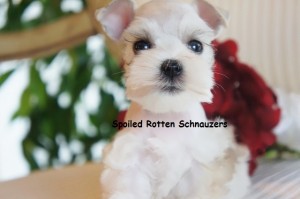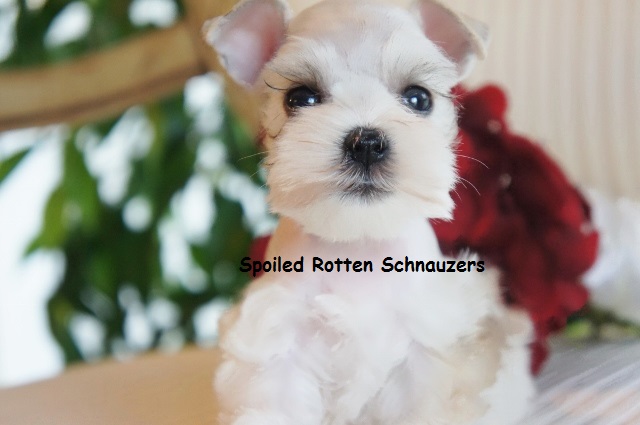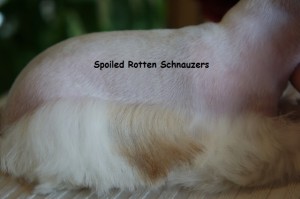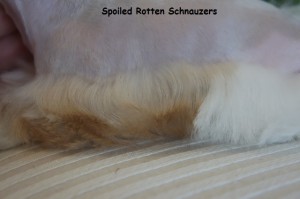 If you look closely at his skin you can still see the "parti" markings
By this age you can see how all the newborn brown banded hair is growing out and the new hair coming in is a glistening shimmery platinum silver (which appears white.)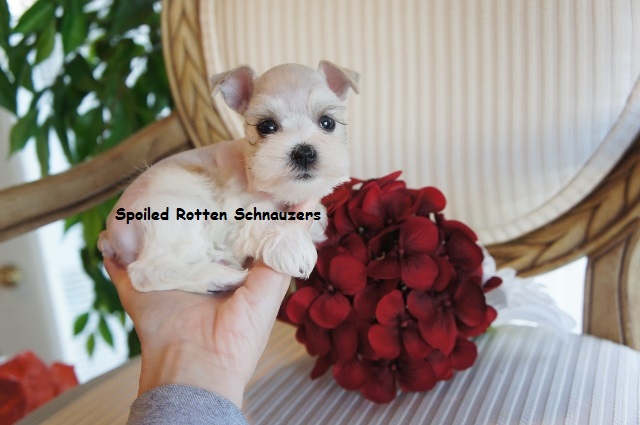 Customized Food for YOUR Specific Breed

INSTRUCTIONS: All you do is create a FREE account on their website so you can tell their vet panel about your pet's bred, age, weight, gender, activity level etc… Based on what you tell them, you will receive a recommended customized nutrition plan developed by P.H.D's in Pet Nutrition catering to YOUR pets specific needs. They do NOT require you to buy anything which is cool. Check it out, to get started simply…
#1 – Go to their website
#2 – In the "MENU" click "PET PROFILE"
#3 – Create a FREE account and then tell their vet panel all about your pet! It's really neat and fun!
.


.