Boy Vs Girl Puppies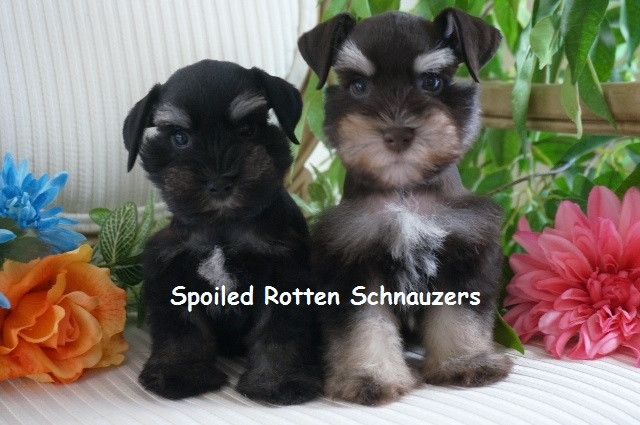 We have been in the pet industry for over 20 years. We have worked with vet clinics, 501(c) 3 rescue and rehabilitation organizations, dog trainers, dog groomers, pet sitters, and dog breeders.  Over the years we have come across and dealt with all sizes of dogs ranging from micro-teacup size dogs all the way up to giant breed dogs.  We have worked with both purebred dogs and mixes. We have talked to countless families about their experiences the differences between boy dogs and girl dogs as well as done our own research on the topic. Here is what we have learned……
.
Boys!
Amazing Family Pets!
Great with Kids!
Wonderful with other Pets!
Loyal, Cuddly, Affectionate!
Happy, Playful and Fun! 
Strong Companion Dogs!
Smart & Easier to Train!
Best Dogs Ever!
.
Girls!
Amazing Family Pets!
Great with Kids!
Wonderful with other Pets!
Loyal, Cuddly, Affectionate!
Happy, Playful and Fun!
Strong Companion Dogs!
Smart & Easier to Train!
Best Dogs Ever!
.
Yep, that's right – BOTH boys and girls are equally awesome!
.
.
Frequently Asked Questions
.
Which Gender is Better?
Honestly, that is totally a personal preference. If you research this topic you will find conflicting answers and that is because everyone has their own opinion.  A lot of families will say "I will only get a boy dog because they are great with kids and much more loving/affectionate." But then on the other hand you will have just as many families saying the same thing about girl dogs. You will hear people say boy dogs are smarter but then again, just as many families say girl dogs are actually smarter.  
.
Who is right? Which one is better?
If the truth be told – both boy and girl dogs are equally incredible. Everyone has a different preference, personal experience and reason why they choose a specific gender. So get what's right for you.
.

Just like humans, ALL dogs are born with different personalities.
(regardless of their gender)
.
There are "alpha females" and "alpha males".
There are "submissive females" and "submissive males"
There are "fun males" and "fun females"
There are "stubborn males" and "stubborn females"
There are "quiet calm and laid back females" and "quiet calm and laid back males"
There are "high energy males" and "high energy girls"
There are "rolly-polly easy going girls" and "rolly-polly easy going boys"
There are "shy & timid males" and "shy & timid females"
Sometimes the smartest pup in the litter is the boy, other times it's the girl. Etc..

Is Personality More Important then Gender?
Yes, personality is a lot more important then gender. Depending on which personality you get will depend on your overall experience with that particular puppy. Some families have 5 to 10 dogs that blend beautifully and are easy to manage. They move together as a smooth unit. While other families may only have 2 or 3 dogs and are in constant battles with them. Is gender to blame for this – NO, it's all about how the dogs personalities are blending together. There are families that have 2 girls dogs that fight all the time, but on the other hand, there are just as many families that have 2 girl dogs that get along perfectly!  So again, it's not really the "gender" that determines the experience.  
.
So There is No Difference Between Males & Females?

Yes & No, Let's explain…
.
No, if you spay and neuter the puppy young then there is really no difference between a girl and a boy dog. Most licensed veterinarians, experienced breeders and professional dog trainers will tell you that gender is irrelevant IF the puppy is spayed or neutered early. (before or around 6 months of age).
.
Yes, there is a tremendous difference in the dogs behavior IF you do NOT spay and neuter it. NOT because of "gender" but because of it's natural instinct to breed. Studies have proven time and time again that dogs who are driven to breed act more like "pack animals" where dogs that are spayed and neutered early behave like "domesticated pets." So you are actually doing your pet a HUGE favor by having it spayed and neutered early.
.
Most Unwanted Dogs are the Ones that are NOT Spayed or Neutered
(regardless boy or girl)
Sadly, most dogs that are homeless, strays, unwanted and/or surrendered to rescue groups by their families or dumped at kill shelters to be euthanized are mainly because the family can't deal with the issues that arise from owning a dog that is NOT spayed or neutered. For some reason people think it's mean or cruel to spay and neuter your dogs but actually it's one of the kindest most loving things you can do to protect them. Why? because studies have proven time and time again that spaying/neutering a dog improves their personality, temperament, behavior and most importantly reduces health risk, improves long-term health and can even increase life-span.
.
Studies Have Proven that Pets who are NOT Spayed or Neutered
tend to manifest (1) or more of the following…. 
– aggressive traits: such as nipping or biting children
Yes, its true. Most dog bites are from unaltered petsfood possessive
– toy possessive
– people possessive
– dominance issues
– destructive tendencies
– howling & heavier barking habits
– higher Risk for Health issues
– mammary gland tumors
– ovarian cancer
– uterine cancer
– testicular cancer
– prostate disease
– digging
– climbing over fences
– lifting their leg to pee on everything. also known as staking|marking their territory. Yes, female dogs do this as well.
– wandering off, harder to keep on property
.
Why Are Intact Dogs More Difficult?



Regardless if it's a boy dog or a girl dog – ALL dogs that are NOT spayed and neutered are driven by their natural instinct to breed so they tend to act more like a "pack animals" instead of domesticated pets. Both the boys and the girls can become:  grouchy, fight or growl more, become more food possessive, toy possessive, property possessive, backslide on potty training or even become very difficult to potty train because their breeding instinct is telling them to "leave their scent" like all pack animals do. Both the girls and boys can become less obedient while their hormones are raging because all they want to do is find a mate to breed. They often hump each other or even hump items in the house (pillows, bedding, stuffed toys etc….) Both girls and boys can take this sexual frustration out by becoming more destructive to property like chewing up stuff, getting into mischief, digging etc… Both genders can become more barky, territorial and possessive. They will even climb over fences to wander off and roam about looking for a mate. They will often howl, cry, or whine all throughout the day/night calling for a mate when they want to breed. They typically are more higher strung, edgy and restless. These behaviors are all very natural and are expected from dogs that are intact. You should NOT punish the dog NOR can you train it out of them. That strong sex drive is just a natural part of all animals lives and is how mother nature created them. The only way to get control of these behaviors and see a real positive change in your dogs is to have them spayed and neutered. Again, if you spay and neuter the puppy early you take out their "sex organs" and therefore stop those strong hormones from getting into their system and taking over.
But Boys Lift their Legs….
The #1 complaint about boy dogs is that they "mark their territory  or "lift their leg" to pee on everything BUT if you do further research, you will see that the people who are usually complaining about this behavior have males that are not neutered, or males that were neutered later in life (1 year or older) or males that were used as "breeders." (even if the male just bred one time.)
If you talk to your vet or any professional within the pet industry you will learn that most agree  once the male dog is finally neutered the problem will either completely go away OR significantly diminish. It just depends on how long the male has been "lifting his leg" and how much of a habit it has become. Statistics show that almost every family that has neutered their male puppy by or before the age of 6 months has had no problem with their males lifting their leg or marking their territory as long as they are in a home that has no other dogs that are lifting because dogs do learn from each other. Example: if there is another dog in the home that is peeing everywhere, the new dog (whether its a boy or a girl) will also pee over that scent. So have all your pets (boys and girls) spayed and neutered early so that this never becomes a problem.
.
But Girls Don't Lift their Leg….
 Oh yes they do! They just do it differently. It's obvious when a male dog "marks his territory" because you can visually see them "lifting their leg" to pee.  Females DO "mark their territory" and "leave their scent" but they squat to do it so it's NOT as obvious. Matter of fact, we hear countless families share with us how their (Not) spayed female dog is totally potty trained but will have "potty accidents" from time to time in the house which frustrates the owners because they feel she "knows better." When in reality, the female dog is NOT going "potty inside" the house by accident like they think – the female is "leaving her scent" on purpose and "marking her territory"  –  It's NO different then what the (not) neutered boys are doing. And yes, both girl dogs and boy dogs will do this even if there is NO other dog around. It's just a natural behavior driven by their sex hormones.
.