WELCOME!
Welcome to Spoiled Rotten Schnauzers! We are famous throughout the United States for providing some of the healthiest, most adorable and tiniest schnauzers in the World! We sell beautiful, hand-picked micro teacup, teacup, and toy schnauzer puppies from the best bloodlines out there, our pedigree's are hard to beat!  We want to ensure that the schnauzer puppy you get will be well-trained, well-socialized, and happy. Our schnauzers are raised within our  joyful, fun, loving, gentle, bright and cheerful home being absolutely 'spoiled' with the best quality of life a puppy can get! We are a devoted, family run business with a strong passion for this incredible breed. Spoiled Rotten Schnauzers is located within Utah, but we are happy to sell our precious puppies to loving families all over the country
Dedicated to protecting and promoting this amazing and sweet breed, Spoiled Rotten Schnauzers hopes to preserve the stunning 'lost schnauzer colors!' that are becoming difficult to find anywhere else. Our schnauzer puppies are recognized throughout the United States because of their personality, training, quality and health, and we find a great deal of joy and pride in raising our adorable schnauzer babies until they are ready to be adopted by homes that will continue to provide them with a cherished life as a much-loved member of the family. We strongly suppor the United States National Push for Breeders to sell their puppies to pet homes. So we do require that all of our puppies are spayed and neutered before they leave for their new homes. Yeah! Sorry, no breeding rights.  
.
Hand Raised with Gentle Loving Care!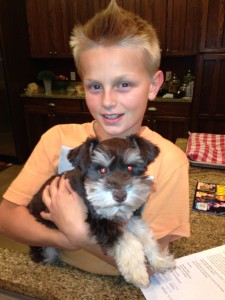 We hand raise all of our schnauzer puppies within our home as a valuable and precious part of the family, investing huge amounts of time, energy, dedication and money into a breeding program that we can be proud of. Our schnauzer puppies are perfectly happy running around the house within a regular day-to-day family routine, and they don't get scared easily by common household noises. We work hard with each and every puppy in establishing early potty-training skills, and you are bound to see the quality of our puppies when you recognize their friendly personality, positive training and excellent health. Feel free to take a look through our testimonials to see what previous families have had to say about us.


Some of our Beliefs
• Quality of life is essential for both people AND animals
• Health, a proper diet and good exercise are of top priority to our puppies
• Socialization is a crucial part of raising a well-balanced, friendly dog
• Positive reinforcement training can help to make good pets fantastic
• Animals deserve respect, just like people, and should be treated as such
• Animals are NOT disposable .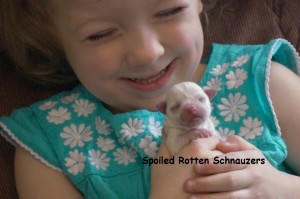 A Few Facts about Schnauzers:
• Great with children
• Great with other animals
• Fast learners, and easy to train
• Excellent watchdogs
• One of the healthiest small breed dogs
• Hypo allergenic and non-shedding
---
Thank you for visiting our website and we truly hope you enjoy browsing around. Please feel free to contact us anytime as we love getting to know new families as well as staying in touch with adopting families.  We truly appreciate all the love & support you have all shown us over the years and we hope to continue to blend families together with their dream babies! Free free to contact us anytime at: 801-623-8555