WELCOME!
Home to Some of the Tiniest and Healthiest Schnauzers in the World!
Spoiled Rotten Schnauzers is rated as one of the highest caliber micro teacup, teacup, and toy schnauzer breeders within the Country! Not only that but we are famous throughout the United States for providing some of the most beautiful, healthiest and tiniest toy, teacup and micro teacup schnauzer puppies in the World! Our toy and teacup schnauzer puppies originate from the best bloodlines out there and our pedigrees are hard to beat. Not to mention we offer one of the most impressive health guarantees you can find online, For those that don't know, toy and teacup schnauzer puppies are very smart, quick to learn and easy to train. They are also a hypoallergenic non-shedding breed. We are Located in Utah, but families come from all over the world to adopt one of micro teacup, teacup and toy schnauzer puppies. Yes, we ship. 
We are a Devoted Family Company 
Spoiled Rotten Schnauzers is NOT a kennel. We have a strong passion for this incredible breed and enjoy having our micro tcup, teacup and toy schnauzer puppies live inside our home as part of our cheerful, fun-loving family. They live down on the ground (NOT in cages) and that WILL show as "proof" in their personality and training. Our schnauzers are absolutely 'spoiled' with the best quality of life a dog can get which is why they are always so happy, well socialized and comfortable with daily household noises and routines. 
Can't Decide Whether a Toy, T-cup or Micro Teacup Puppy is right for you?
Let us help you with that…

.
Toy schnauzer puppies are known to do well in any loving environment and are awesome to travel with. Toy schnauzers are small but not frail which makes them an all time favorite. They have a very friendly, cheerful, social, interactive, playful, affectionate disposition and get along fantastic with other dogs, cats, children of all ages, including toddlers and babies. Toy schnauzers can live in a loud hectic active family with 8 kids or a calm quiet senior citizen home, out on a ranch or in a big city, living in an apartment or a chillin' at the mansion. Unlike teacup schnauzers, toy schnauzers are the perfect size if you work full time or come and go alot. They are very adaptable which makes them rewarding to live with. Toy schnauzers average around 7 – 10 pounds full grown.
.
Teacup schnauzer puppies on the other hand are more delicate than toy schnauzers so they do require more attention and care. Keep in mind that some teacup puppies will be more "frail" and "higher maintenance" then others so choose carefully because you can create health issues, cause hypoglycemia or even early death if you can't meet the teacup puppies needs. As an overall rule teacup schnauzers do well with other dogs and cats but tend to dislike kids or just ignore them.  Older children, teenagers, adults and seniors all love this tiny size, but if you have toddlers or babies, then you really should think twice about getting a teacup and instead might consider a tiny toy schnauzer puppy instead. Depending on how tiny your teacup puppy is will determine how long it can be left alone during the day. Usually this size should NOT be left alone for more then 4-5 hours at a time. Teacup puppies are very light weight and easy to carry around. Some will travel better then others. Teacup schnauzer puppies are for families wanting a new best friend to follow them around and share their life with. Teacup schnauzers average around 4 – 6 pounds full grown. We encourage you to read our how to choose a teacup puppy page. 
.
Micro teacup schnauzer puppies are not for everyone like toy schnauzers are. Micro puppies require a high end diet and specialized care. If you do not provide them with a certain type of daily lifestyle you can create serious health issues and even kill them. They also can be injured alot easier then a teacup schnauzer or a toy schnauzer. Micro teacup puppies are not a size for first time "teacup" owners. If you have never owned a micro teacup puppy before you might want to adopt just a teacup puppy first. I can not stress enough that you must know what you are doing with this size so educate yourself and do some research. Micro teacup schnauzer puppies are for families that want a "soul mate" or a  "new baby" in the home that they can shower with a lot of time, love and attention. So if you work a lot, have a real busy life where your gone most of the day, etc.. then this is NOT the size for you.  Micro teacup puppies do NOT do well being left alone very much. This size is very fragile and bred solely to be adult companion pets. Born to be held, carried, spoiled, and will want to follow you around everywhere.
Toy versus T-cup (Teacup) Schnauzer Puppies – a short history.
We Protect and Promote the "Lost Colors!" 
Dedicated to protecting and promoting this amazing and sweet breed, it is our sincere hope to preserve the stunning 'lost schnauzer colors' in micro teacup, teacup, and toy schnauzer puppies that are becoming difficult to find anywhere else. Don't forget to check out our schnauzer colors pages to learn more about them!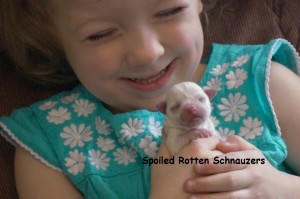 Whichever size and color you choose just know that your puppy will come pre-spoiled. We feel a great deal of joy and pride in raising our adorable schnauzer babies until they are ready to be adopted by homes that will continue to provide them with a cherished life as a much-loved member of the family. We strongly support the US National Push for Breeders to sell their puppies to pet homes. So we do require that all of our puppies are spayed and neutered before they leave.. Yeah! Sorry, no breeding rights.