Black and White Parti Schnauzers

.
.
.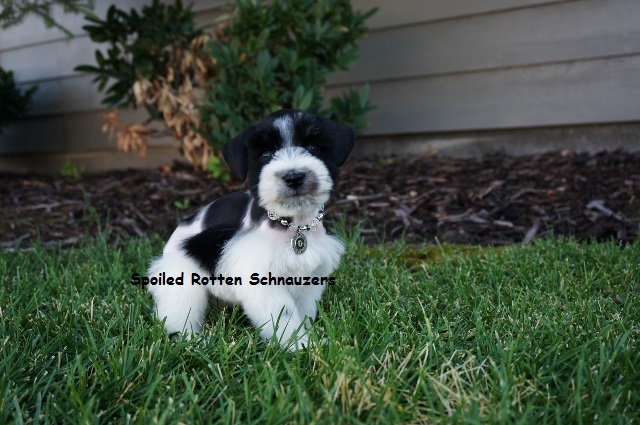 Can You Register a Black Parti Schnauzer with AKC?
Yes, of course. Black parti schnauzers are purebreds.
The AKC Registration Color Code for all parti colors is: 023 and you do need to send pictures when registering them. Contact AKC directly for more info.
What Are Black Parti Schnauzers?
Black parti schnauzers are born with white hair and black spots. Not all black parti schnauzers will have the same patterns. The spots will vary (in size & location) across their body, legs, face. Some parti schnauzers (not all) may develop a pattern of "ticking" within their hair as they age. It's genetic so some bloodlines have a heavier tendency to produce the ticking then others. Ticking is just pattern, so it's cosmetic and a personal preference if you enjoy the look of the parti schnauzers with or without the ticking.
What is Ticking?
Ticking is NOT something you generally can see on a newborn puppy. Most of the time black and white parti schnauzers are born with bright white hair and black spots so they appear very flashy. It's NOT until LATER that the ticking starts to show up.Ticking is just pattern, it's cosmetic and a personal preference if you enjoy the look of the parti schnauzers with or without the ticking. Ticking can drastically change the look of a parti schnauzer because instead of having the white hair stay white and the black hair stay black (for that flashy look like it would on a parti without ticking) the ticking becomes more of a blended color of black /white which gives more of a lovely intermixed look. Ticking often looks like cute little freckles throughout the white hair. The ticked hair is colored. On a black parti schnauzer the ticked (freckled) hair would be black. On a chocolate parti the ticked hair would be chocolate etc….. Parti Schnauzers that develop ticking will also vary drastically. Some will appear black and white with freckles where others have so much ticking they almost don't look like a parti anymore. Both are GORGEOUS in their own way so it's just a matter of which overall look you prefer. If you want to know more about ticking on parti schnauzers then please refer to our "what is ticking" page.

Photo of a Black Parti Schnauzer

WITH

Ticking…
See how this amazing ticked black parti schnauzer has a more blended look throughout her hair while at the same time still having the eye-catching contrast. Very unique and breath-taking.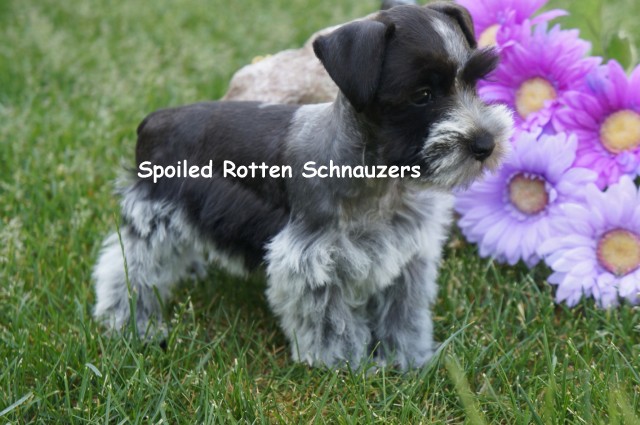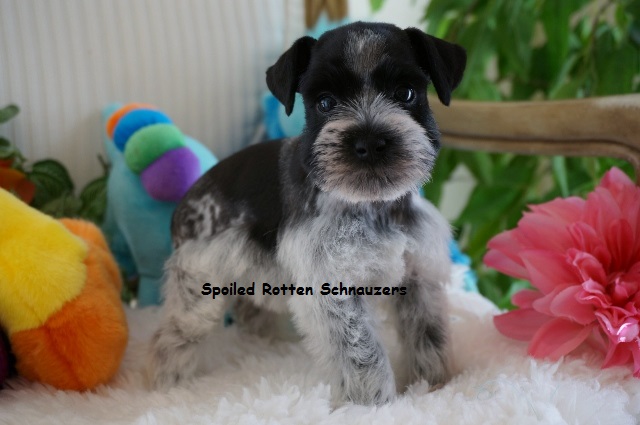 Photo of a Black Parti with

NO

Ticking…
see how her white stays white and her black is black. There is no intermixing of the 2 colors which creates a "wow" factor with the strong flashy contrast.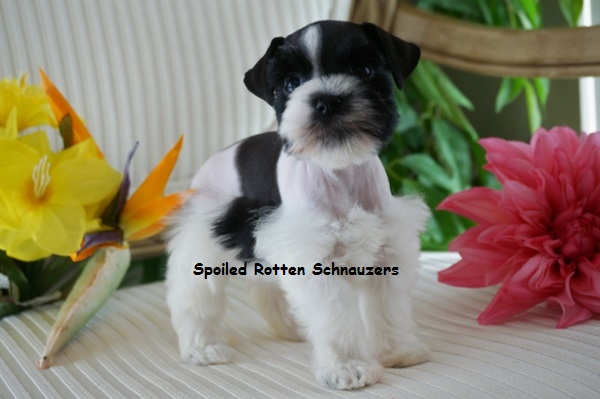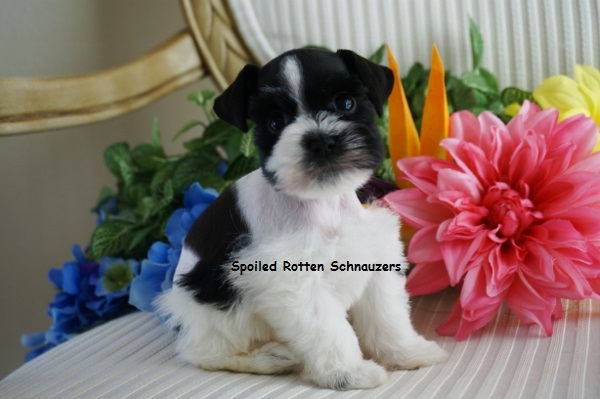 Customized Food for YOUR Specific Breed

INSTRUCTIONS: All you do is create a FREE account on their website so you can tell their vet panel about your pet's bred, age, weight, gender, activity level etc… Based on what you tell them, you will receive a recommended customized nutrition plan developed by P.H.D's in Pet Nutrition catering to YOUR pets specific needs. They do NOT require you to buy anything which is cool. Check it out, to get started simply…
#1 – Go to their website
#2 – In the "MENU" click "PET PROFILE"
#3 – Create a FREE account and then tell their vet panel all about your pet! It's really neat and fun!
.


.